what are card printers?
Card Printers issuing cards instantly is never a difficult task with the help of a direct thermal printer.
Smartstripe provides the solution to cater to different needs, such as direct printing onto cards and retransfer technology (which uses dye sublimation) which is suitable for chip cards or printing of sticker backing cards that can be stick onto your clamshell proximity card.
This can later be removed and recycled if your staff resigns.
find out more about the different card printers:
Rewritable Card Printers
What are Rewritable Card Printers?
Rewritable printing technology does not require a ribbon to personalize cards. The card itself holds a thermosensitive material that becomes visible when heated to 356°F (180°C) temperature and then quickly cooled.
Any color pattern will be erased by applying a lower temperature, generally within the range of 230-320°F (110-160°C).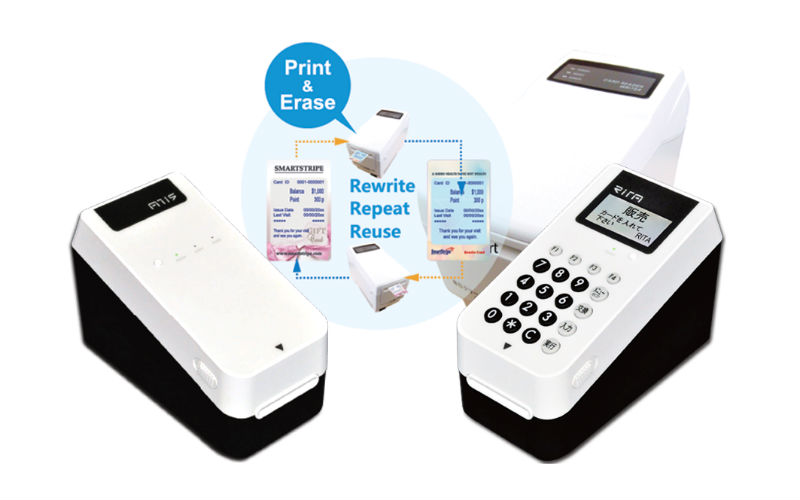 This method takes advantage of two chemicals that interact with each other according to selected temperature thresholds. This heating/cooling process is handled thanks to a thermal head.
What are the benefits of Rewritable Card Printers?
1) Cost-effective:
No cost relating to ribbons
Cards can be reused up to 500 times.
2) Efficient printing features:
Data can be edited on the spot, whenever needed.
Can be printed on cards very quickly
Visible at a glance for increased interactivity with customers.
3) Multiple applications:
Suitable for magnetic stripe and contactless applications.
Retransfer Card Printers
What are Retransfer Card Printers?
Retransfer printing technology uses a two-step process by first printing the color images first onto a thin, clear substratum, then transferring heat to the surface of a PVC, polycarbonate or composite card complete with the printed YMCK image.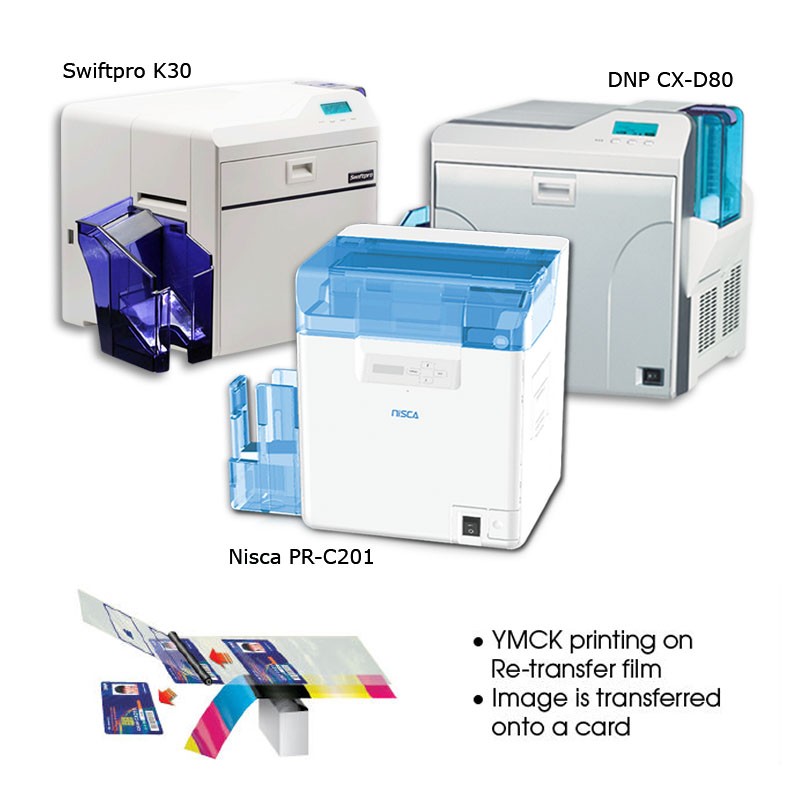 The printhead in a retransfer printer never makes contact with the card's surface, unlike direct-to-card technology.
What are the benefits of Retransfer Card Printers?
1) Increased durability
With the colour printed on the retransfer film's underside instead of directly on the card, the image is protected from direct contact with ID cardholders, wallets, magnetic stripe or contact chip machines by that transparent film.
Thus, the card's initial quality & colour remains much longer than most direct-to-card prints.
2) Print consistency
Because the printed retransfer film is a known and controlled substratum, print quality is more consistent than direct-to-card technology where the variable surface of the PVC card or slightly raised areas such as an embedded contact chip can affect print performance.
 3) Designed for volume and long-life
The printhead used in a retransfer printer never touches the card's surface, reducing the likelihood of damage or failure. The printhead which direct-to-card printers use can be subjected to dust and dirt on the card surface or uneven / poorly built PVC cards.
If these cards are used with a retransfer printer, there will be no direct harm to the printhead and there will be no impact on the print quality. This is because all the printing takes place between the printhead and the retransfer film, after which the film is then transmitted to the card surface through heat.
When the film is transferred to the surface of a smart card with an integrated chip – the film only adheres to the card surface's plastic fields – ensuring that the chip section is always smoothly cut out of the overall print.
4) Print over the edge of the card
Retransfer technology utilizes a slightly wider film as a bleed margin – this spreads beyond the top of the card, leaving no white margin whatsoever when it is transferred to the card's surface.
Direct Printers
What are Direct Card Printers?
The direct-to-card printers print the image directly onto the surface of a PVC or a composite card. In this case, the printhead comes in direct contact with the surface of the card to deliver the pigment.
What are the benefits of Direct Card Printers?
1) Price
Direct-to-card printers are typically cheaper than retransfer models. This is important for companies with a smaller budget.
2) Supplies
Ongoing operation of direct-to-card printers is also somewhat less costly because they do not incur the extra retransfer film costs.
You'll only need the ribbon and the blank cards for direct-to-card printing and these savings can add up.
Smartstripe has been in the Card Printing & Printer Industry in Singapore for more than 20 years. Contact us to get more details of these printers and our specialist will be glad to help explain the benefits and cost of each type of printers that suits your needs and budget
Still Can't Decide? Let Our Sales Specialist Help You With the Right Printer That Suits Your Needs!