plastic cards in singapore
There are a wide variety of applications and usage in Singapore when it comes to plastic cards.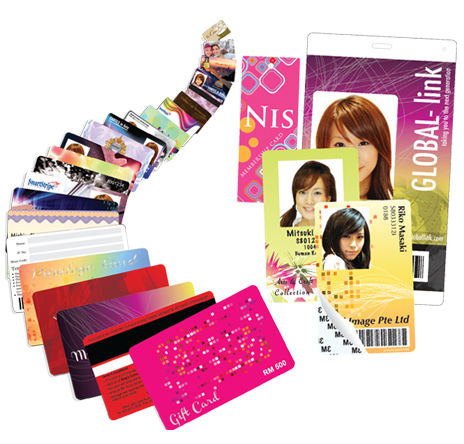 Plastic Cards include
Membership cards
Loyalty cards
VIP cards
Employee identifications
Security pass
Contactless/RFID cards
Oversized/perforated cards
Gift cards
Scratch cards
Hotel key cards
Luggage tags
PVC adhesive cards
*Whatever the requirements are, we can customise, supply and deliver to you!
Dr. Card Series
Most commonly used are our ~ Photograph Series, 100% PVC, which is compatible with majority of direct card printers in the market. These printers do not generate excessive heat during the printing process which minimises card bending.
However, for retransfer printers, significantly higher temperatures are used and hence, the cards are required to have a much higher tolerance to heat. As the photograph series does not possess this property, using retransfer printing might intermittently result in slight bending of the cards.
That being said, due to price constraints, several customers insist on using this series as they consider the bending as minute and insignificant. While, other customers opt for the optional bend remedy module that further equips their printer to minimise this bending issue.
Overall Dr. Card ~ Series Datasheet
Compliant to ISO/IEC 7810
Signature Series
• Standard stock : White
• Size : 53.98mm X 85.6mm X 3.18mm
• Thickness : 0.76mm (+/- 0.08mm)
• Vicat : 78ºC
• Packing : 250 pcs/box
• Weight per card : 5 gram
Photograph Series
• Standard stock : off White
• Size : 53.98mm X 85.6mm X 3.18mm
• Thickness : 0.76mm (+/- 0.08mm)
• Vicat : 79°C
• Packing : 250 pcs/box
• Weight per card : 5 gram
Performance Series
• Standard stock : Yellowish White
• Size : 53.98mm X 85.6mm X 3.18mm
• Thickness : 0.76mm (+/- 0.08mm)
• Vicat : 82°C
• Packing : 250 pcs/box
• Weight per card : 5 gram
Bonding Series
• Standard stock : White
• Size : 53.98mm X 85.6mm X 3.18mm
• Overall Thickness including backing : 0.5mm (+/- 0.02mm)
• Thickness of adhesive : 0.048mm
• Type of adhesive : Tackified acrylic
• Elongation at break : 50%
• Tensile strength : 20 N/cm
• Adhesion to PVC (initial) : 5.7 N/cm
• Adhesion to PVC (14 days later) : 9.4 N/cm
• Adhesion to PET (initial) : 5.3 N/cm
• Adhesion to PET (14 days later) : 7.0 N/cm
Another range of white cards that is more suitable for retransfer printers are our ~ Signature Series, 40% PVC & 60% PET.
Although this is a composite cards that can withstand slightly higher temperature which is suitable for all retransfer printer but not necessary suitable for all brand of laminator module and is advisable to do some testing on the result.
In cases where additional lamination is required, 100% PET is the way to go as they possess a much higher temperature tolerance. Unfortunately, only the retransfer printers are able to perform well on these cards as majority of direct card printers face colour imaging issues.  We classify this range as ~ Performance Series, 100% PET which is also environmentally friendly.
In short, we are able to manufacture numerous card combination to meet your specific needs, be it Identity passes, stock or customisation of cards.
Clamshell security cards proves to be a challenge for customers to print in house as only a handful of printers are compatible. The thickness, surface material and the bevel edges all prove to be a challenge when it comes to clamshell cards.
Hence, we have our ~ Bonding Series, which uses TESA adhesive from Germany. The adhesion to PVC (initially) reaches 5.7 N/cm and strengthens over time at 9.4 N/cm after 14 days. We also have a customised jig, that allow seamless pasting on any clamshell cards, which may be purchased separately.
These cards has high temperature resistance that can withstand up to 200 ºC short term and 100 ºC long term. This is important, if the wrong or cheaper type of glue is used it might cause the glue on adhesive to overflow from the card edges.
This is common but avoidable sight for most adhesive cards in the current market as many are unaware or ill-informed about adhesive cards, solely focusing on the cost per card. Resulting in buying unsuitable products for your card printer which, not only shortens it's life span but also quickens deterioration of your printer components.
*Many supplier cannot even provide datasheet sheet specification of their adhesive backing cards.
So what is new in the market now ? 

Standard white cards have been in the market for a very long time and more often than not, people don't spare a second glance unless the design is unique. Regardless, several companies still depend on cards to be part of their marketing scheme or essential item for their daily operation.
We have created something simple, yet attractive to capture user's first glance. Smartstripe is the first card company in Singapore to promote and produce such cards, the ~Highlight series.
The uniqueness of this series is that we colour the edges of the cards to enhance the look and experience whilst holding the card. We received overwhelming response during its first launch and many established distributors have also started to engage our services to produce different coloured edges from this series. You can choose whatever colour that complements or contrast your own design. This may be something small and simple but may be the very thing to set you apart from your competitors when it comes to membership cards.
We can also provide non-ISO standard of any customise design or shape and size. For any reason, thickness or shape is a concern, where the standard ISO thickness of
0.76mm or measurements of 86mm by 54mm is not acceptable, we can always provide customisable thickness or shapes upon request.
If you are looking for something different, do share your concept with us and we will brain storm and propose what we can offer. We are confident that we are able to meet your requirements and exceed your expectations.

Email us now to discuss further,
enquiries@smartstripe.com
Tips on Cards Handling
1. Hold cards by the edges as to avoid fingerprint residue / put on gloves when handling cards.
2. Store cards away from direct sunlight / high temperature / high humidity places to avoid fading / ageing of photographs.
3. Avoid constant contact with flimsy polyvinyl chloride (PVC) card holders to prevent migration issues.
Customise Your Unique Member, VIP or Staff Card Today!